TWO Brunei Shell Tankers Sdn Bhd (BST)'s remaining B-Class vessels, the Bebatik and Belanak, will be decommissioned in April and June this year after delivering liquefied natural gas (LNG) cargo to customers for over 45 years.
BST launched a commemorative coffee-table book titled 'Finished with Engines' at a high tea reception to mark the decommissioning of the vessels at the Indera Samudra Grand Hall of The Empire Hotel & Country Club.
The book launch was officiated by guest of honour, Minister of Communications Awang Abdul Mutalib bin Pehin Orang Kaya Seri Setia Dato Paduka Haji Mohd Yusof.
Leading the event was John Douglas Cook, the Managing Director of BST and Brunei Gas Carriers Sdn Bhd (BGC).
In a tribute speech, Captain Abdul Mateen Abdurrahman Liew, BGC's QHSSE Manager, noted, "Seven G Class vessels, all of which were built to serve the then nascent Brunei LNG project, delivered LNG from Lumut to customers, initially in Japan, and one epic voyage all the way from the South China Sea to Barcelona, Spain via the Suez Canal in 2002."
In 1986, he recalled, "Ownership of the G-Class vessels transferred from Shell Tankers UK limited to a newly formed company, BST – and all vessels were renamed accordingly by His Majesty Sultan Haji Hassanal Bolkiah Mu'izzaddin Waddaulah ibni Al-Marhum Sultan Haji Omar 'Ali Saifuddien Sa'adul Khairi Waddien, Sultan and Yang Di-Pertuan of Brunei Darussalam."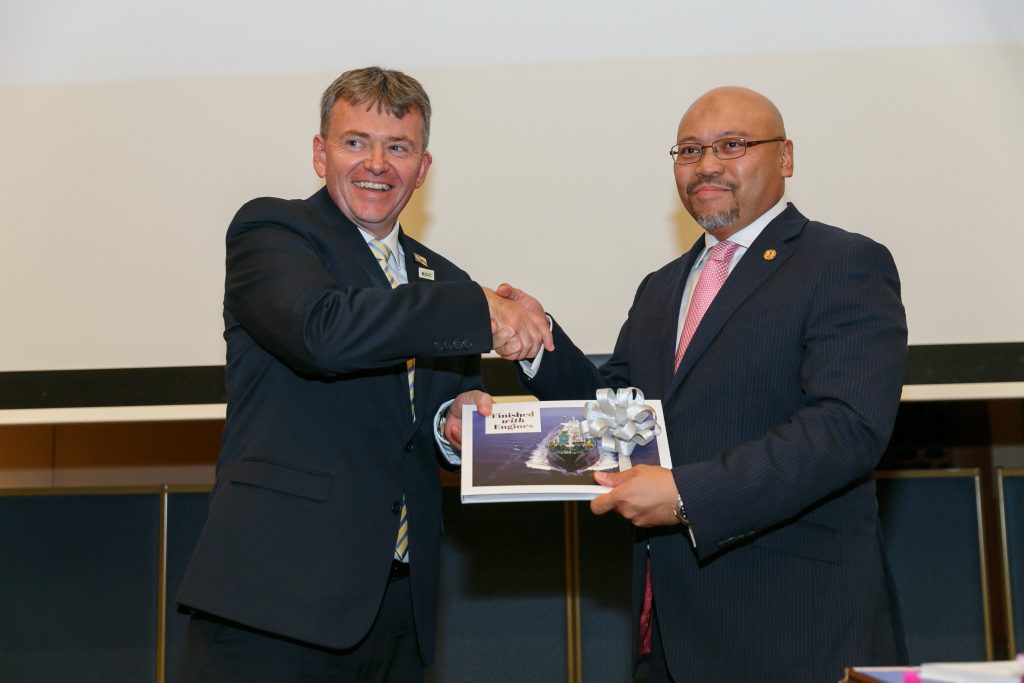 The B-Class vessels were renamed Bebatik, Bekalang, Belais, Belanak, Bekulan, Bilis and Bubuk – all names of local fishes and shellfish, to maintain a marine connection.
Over the course of more than 45 years, he added, "The B-Class vessels have continuously provided safe and reliable LNG shipping services for the Brunei LNG project and their customers, completing more than 6,300 successful cargo deliveries whilst navigating an approximately 4,000-kilometre route between Brunei Darussalam and Japan.
"That is over 75 times to the moon and back or 15,000 times circumnavigating the planet."
The B-Class, Captain Abdul Mateen Abdurrahman Liew pointed out, "have played an essential role in the development of the Bruneian LNG seafarer community, with the very first officers and cadets employed by BST gaining their sea legs onboard, and if you speak to any of the seafarers who have sailed on them, you will note a fondness for them that you only get from something that has proven invaluable to your own personal development".
Through the B-Class vessels, BGC now has its first few master mariners and chief engineers, and with their decommissioning, that mantel has now been passed on to BGC's A-Class vessels as BGC continues to develop its Bruneian seafarers in support of Vision 2035 and befitting BGC's vision of "developing the nations' resources for safe, reliable and sustainable maritime transportation".
Following the book launching, the minister and invited guests proceeded to view an exhibition displaying photos and details of each of the seven B-Class vessels.
Borneo Bulletin